 Friends of Charles G. Williams Park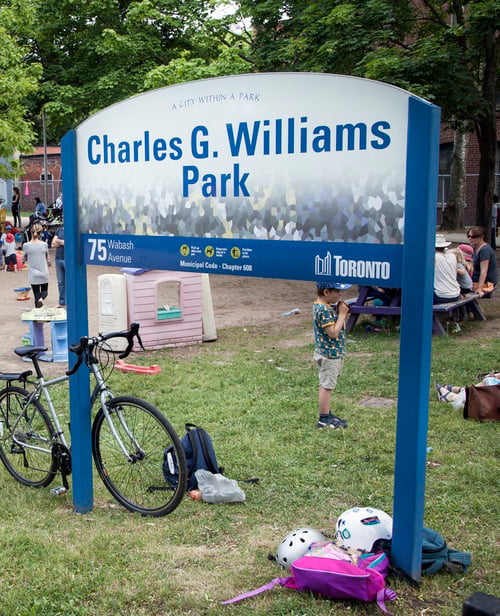 Founded in 2017, we're a volunteer, not-for-profit, resident group dedicated to advocating on behalf of our community during the the City of Toronto's scheduled refurbishment of CGW park. Our goal is to ensure that the renovation will result in a reimagined and reinvigorated green space that is both vibrant and safe for everybody – big and small.
Does the Park Really Need a Reno?

With your valuable and ongoing feedback, we have determined a need for the following changes to CGW park – changes that will transform the park into a public space that is safer, greener, and more inclusive:
Move the Entrance – This is primarily an issue of safety. We are advocating to move the entrance from the East side of Sorauren Avenue to the southwest corner of Sorauren Avenue and Wabash Avenue making access to the park safer for users.
Provide More Shade – Whether an increased tree canopy and/or the addition of shade structures like pergolas, more shade will provide much-needed relief from the summer's hot sun.
Expand the Play Space – We want to ensure the City's plan utilizes the park's entire existing footprint AND that no "real estate" is lost to encroaching future developments.
Make the Park an All-Ages Community Hang-Out – We'd like the new park plan to include activity areas for younger and older kids, as well as grown-ups! Why not?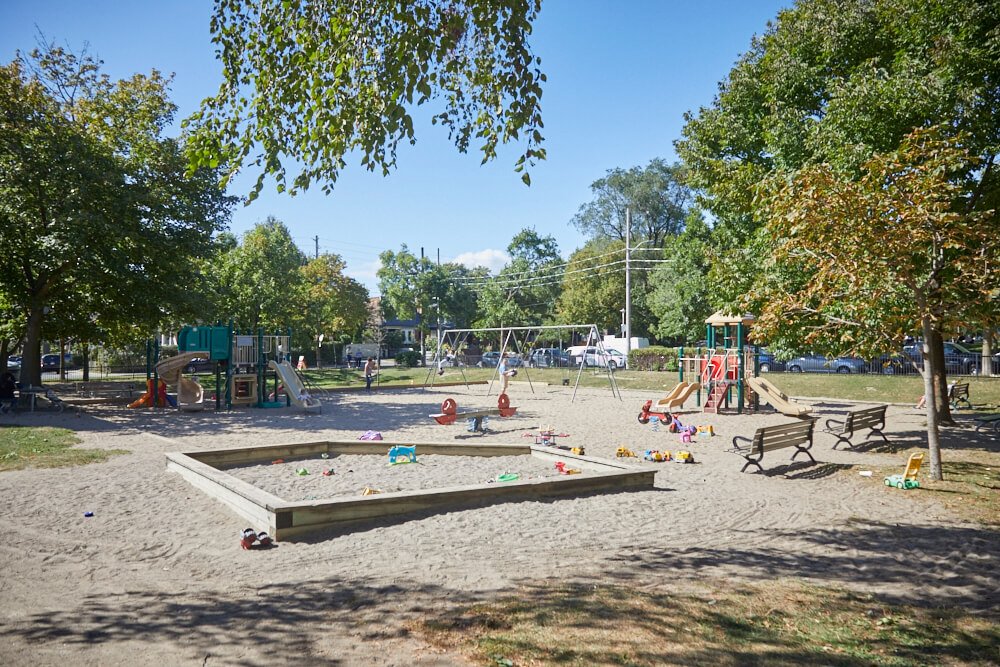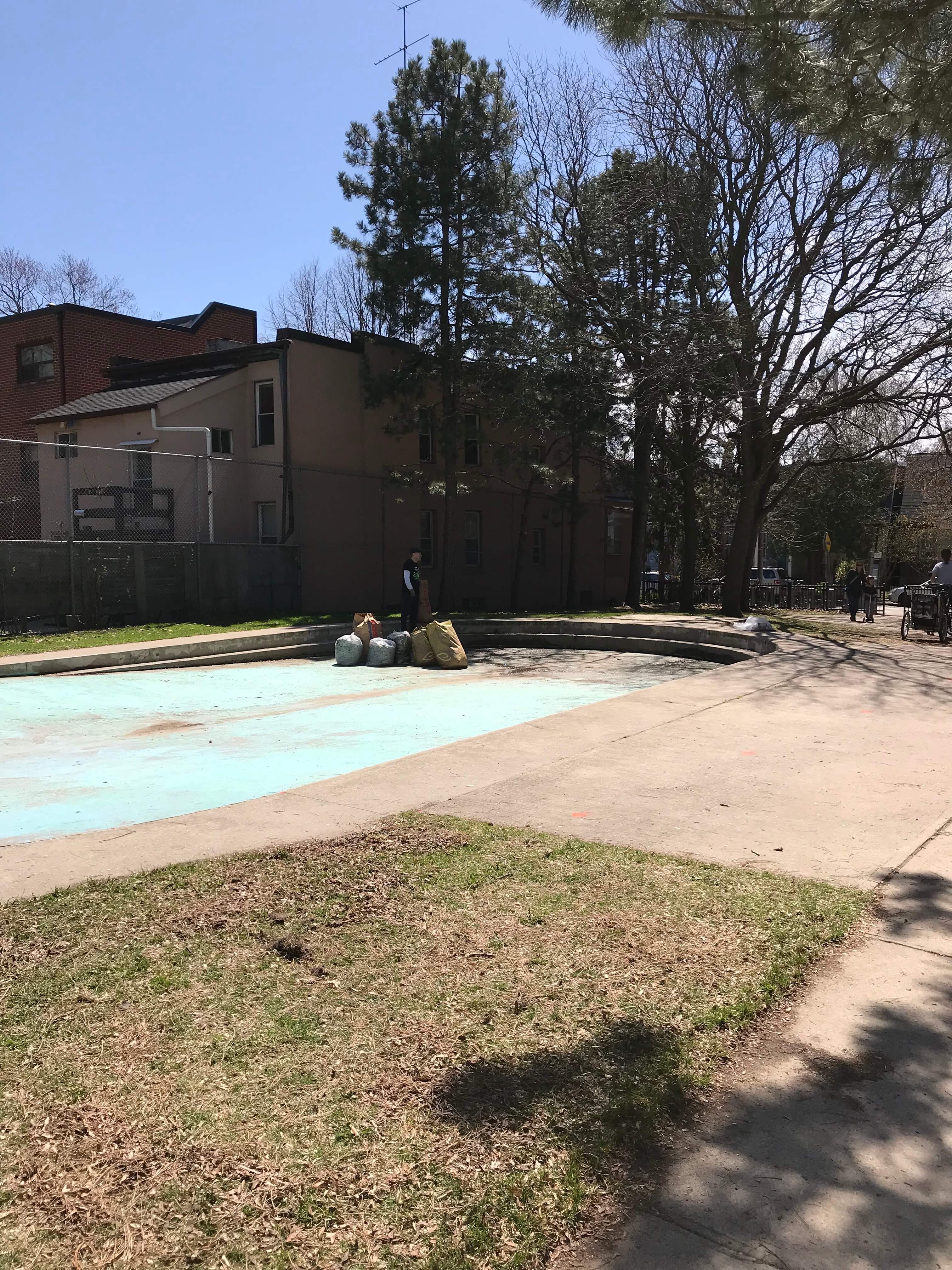 We collect the community's input via surveys, design brainstorm sessions, newsletters, public events and neighbourhood outreach.
We collaborate with the City of Toronto Parks, Forestry & Recreation Division to problem-solve issues and identify opportunities.
We host park clean-up days, basketball jamborees, park readings, and other fun events  – sometimes in collaboration with other community orgs and businesses – like MOCCA and Friends of Sorauren Park – to raise awareness and to fundraise. Yeah, we got t-shirts and totes!
Who was Charles G. Williams?
WWI SOLDIER & PARKDALE RESIDENT DIES FIGHTING FOR CANADA

Charles Gower Williams emigrated to Canada from England in 1910 settling in Parkdale on Wright Avenue. He worked as a conductor for the Toronto Railway company whose streetcar barns were located at Queen and Roncesvalles, and was an advocate in the community for new immigrants. In 1913, he married Mary E. Shortly after the birth of their son Harvey Williams in 1914, WWI broke out. Charles enlisted in the Canadian Army, and was sent overseas. He fought in the Battle of Vimy Ridge and in the infamous Battle of Hill 70 in 1917 – under the command of General Currie –  where, tragically, he perished.
A Plaque to Mark the Occasion
A bronze plaque dedicated to his memory was mounted on the east wall of the park in 1984; it partly reads 'We are grateful beneficiaries of the sacrifice that he and so many of his generation made, leaving all that was dear to them, facing danger, enduring hardship, and finally passing from the sight of men. Lest we forget'. The plaque is currently in storage, with plans to remount it as part of the park's revitalization plan. Williams's grandchildren, great grandchildren, and great-great grandchildren still live in the area.
Charles' Family Continues His Work in the Community
In September 1978, a committee was formed out of the Roncesvalles-Macdonell Residents' Association calling itself the Parkdale Park Committee. The goal of the 9-person committee was to investigate the need for parkland and recreational facilities in the north west section of what was then Ward II. They canvased residents and community groups before reporting their findings. A petition was circulated and a letter from the Commissioner of Parks and Recreation confirmed that the Ward was the most under-parked area of the city. The lack of parkland and recreational facilities for both young and old were of great concern. Sorauren Park didn't exist at that time; TTC repair barns occupied that site.
After lobbying all three levels of government for funding, embarking on poster & cable TV campaigns and challenging City Hall's cost estimates, an old paint factory was purchased and demolished on the site of the proposed park. City planners and local residents worked together on the design and the park was opened in June 1983 with a plaque-unveiling ceremony following later on September 25th. The ceremony was attended by Mayor John Sewell, local Aldermen, historical board members, City planners and local residents. Gail Williams, a past president of the RMRA and a founding member of the Parkdale Park Committee, had spearheaded the extensive campaign. As a token of the committee's appreciation for her dedication to the cause, it was suggested that the park be named after her grandfather, Charles Gower Williams to whom the plaque is dedicated. The original park consisted of a grass soccer pitch/area to flood for hockey in the winter, a basketball court, a wooden fort/sandbox and a wading pool.